PENDIDIKAN KARAKTER DI MASA PANDEMI COVID-19 DI SEKOLAH DASAR (SD)
Keywords:
Character building, during the Covid-19 pandemic, Primary school
Abstract
The Covid-19 pandemic has had a shocking effect in the education sector. Online-based learning is a solution during a pandemic. During the Covid-19 pandemic, character education should not be ignored, especially at the elementary school level. Because the mainstream of character education is an integral part of education, especially basic education. Elementary school students really need character education for their development needs. Preparing a good generation is the same as instilling prosperity for the future. This study aims to identify the implementation of character education in elementary schools in terms of the urgency of character education during the COVID-19 pandemic in elementary schools; character education at the elementary school level and character education programs during the pandemic. The research method uses descriptive analysis research. Data sourced from literature studies, namely studying theories or information and books that support this research on character education during the COVID-19 pandemic in elementary schools; The results show that learning tools are prepared by adjusting basic competencies that are simplified without leaving Core Competencies (KI) ) 1 and KI 2. the learning program is carried out online, offline, and mixed by paying attention to affective aspects. Learning is designed by getting used to learning discipline, responsibility in completing assignments, instilling a healthy lifestyle, honesty and religious attitudes. Teachers need to be creative in arranging learning while still considering character education during the Covid-19 pandemic. Character education during the pandemic will provide a pattern of living with character from an early age anywhere and under any conditions
References
Abdusshomad, A. (2020). Pengaruh Covid-19 terhadap Penerapan Pendidikan Karakter dan Pendidikan Islam. QALAMUNA: Jurnal Pendidikan, Sosial, Dan Agama, 12(2), 107–115. https://doi.org/10.37680/qalamuna.v12i2.407
Agung, L. (2018). Character Education Integration in Social Studies Learning. Historia: Jurnal Pendidik dan peneliti sejarah, 12(2), 392. https://doi.org/10.17509/historia.v12i2.12111.
Cahyaningrum, E. S., Sudaryanti, S., & Purwanto, N. A. (2017). Pengembangan NilaiNilai Karakter Anak Usia Dini Melalui Pembiasaan Dan Keteladanan. Jurnal Pendidikan Anak, 6(2), 203–213. https://doi.org/10.21831/jpa.v6i2.17707.
A, Doni koesmana. 2007. Pendidikan Karakter. Jakarta: PT Grasindo
Dalmeri. 2012. "Pendidikan Untuk Pengembangan Karakter (Telaah terhadap Gagasan Thomas Lickona dalam Educating for Character)". Al-Ulum. Vol. 14, No 1
Fadilah. M. dan Lili Mualifatul. 2013. Pendidikan Karakter Anak Usia Dini. Yogyakarta: AR-RUZZ Media
Hendurian, Evinna Cinda dan Arnold Jacobus. 2016. "Implementasi Pendidikan Karakter di Sekolah Melalui Keteladanan dan Pembiasaan". Jurnal Pendidikan Dasar Indonesia. Volume 1. Nomor. 2
Mustoip, Sofyan. dkk. 2018. Implementsi Pendidikan Karakter. Surabaya: CV. Jakad Publising Surabaya. Ningsih, Tutuk. 2015. Implementasi Pendidikan Karakter. Purwokerto: STAIN press
Nurhayati, Nurhayati, and Syahrizal Syahrizal. 2015. "Urgensi Dan Peran Ibu Sebagai Madrasah Al-Ula Dalam Pendidikan Anak." ITQAN: Jurnal Ilmu-Ilmu Kependidikan 6 (2): 153–66.
Ratna Megawati. 2004. Pendidikan Karakter: Solusi yang Tepat Membangun Bangsa, Bogor: Indonesia Heritage Foundation.
Santika, I Wayan Eka. 2020. "Pendidikan Karakter pada Pembelajaran Daring". Indonesian Values and Character Education Journal. Volume 3. Nomor 1.
Sarnoto, A. Z. (2015). Membangun Karakter Bermasyarakat dan bernegara dengan Nilai-nilai Pancasila. Statement | Jurnal Media Informasi Sosial Dan Pendidikan, 5(1), 33–39. https://jurnal.pmpp.or.id/index.php/statement/article/view/79
Sarnoto, A. Z. (2016a). Keluarga Dan Peranannya Dalam Pendidikan Karakter Pada Anak Usia Dini. Profesi: Jurnal Ilmu Pendidikan Dan Keguruan, 5(1), 48–58. https://jurnal.pmpp.or.id/index.php/profesi/article/view/157
Sarnoto, A. Z. (2016b). Keluarga Dan Peranannya Dalam Pendidikan Karakter Pada Anak Usia Dini. Profesi, 5(1), 48–58.
Sarnoto, A. Z., & Budiyanti, E. (2021). Karakteristik Model Quantum Learning dalam Pendidikan Anak Usia Dini. As-Sibyan: Jurnal Pendidikan Anak Usia Dini, 6(1), 65–76. https://doi.org/http://dx.doi.org/10.32678/as-sibyan.v6i1.4273
Sarnoto, A. Z., & Hayatina, L. (2021). Polarization of the Muslim Community Towards Government Policies in Overcoming the COVID- 19 Pandemic in Indonesia. Linguistics and Culture Review, 5(July), 642–652. https://doi.org/https://doi.org/10.37028/lingcure.v5nS1.1449
Sarnoto, A. Z., & Siswanto, P. T. (2013). Esensi Nilai-Nilai Keindonesiaan Dalam Pendidikan Karakter. Profesi | Jurnal Ilmu Pendidikan Dan Keguruan, 2(1), 1–7. https://jurnal.pmpp.or.id/index.php/profesi
Santika, I. W. E. (2020). Pendidikan Karakter pada Pembelajaran Daring. Indonesian Values and Character Education Journal, 3(1), 8–19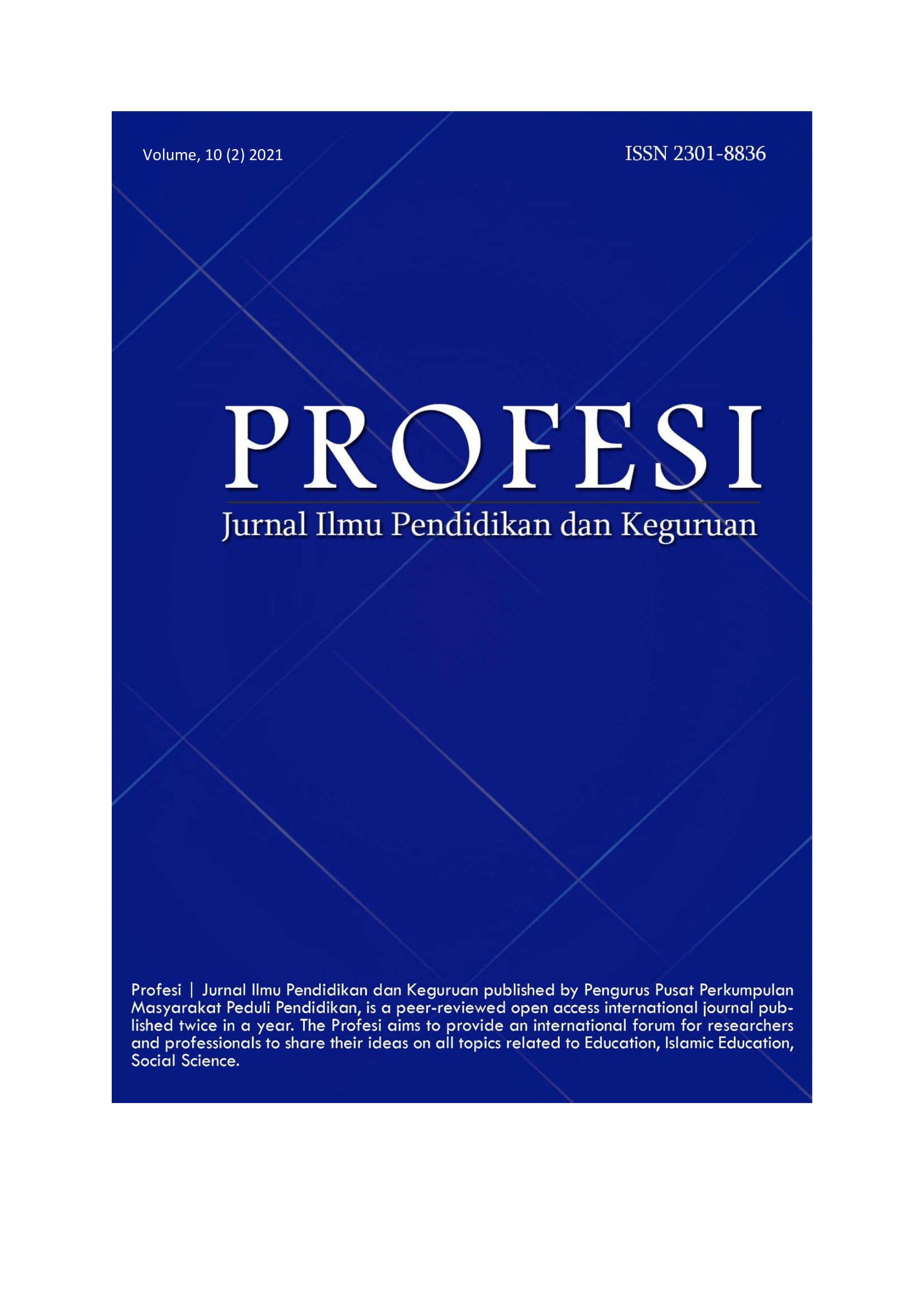 Downloads
Published
2021-11-25 — Updated on 2021-12-15
How to Cite
IKA, Andriyawan, & Siti Maymunah. (2021). PENDIDIKAN KARAKTER DI MASA PANDEMI COVID-19 DI SEKOLAH DASAR (SD). Profesi : Jurnal Ilmu Pendidikan Dan Keguruan, 10(2), 99-106. Retrieved from https://jurnal.pmpp.or.id/index.php/profesi/article/view/224 (Original work published November 25, 2021)